When you walk through a storm
Hold your head up high
And don't be afraid of the dark
At the end of the storm
There's a golden sky
And the sweet silver song of a lark
Walk on through the wind
Walk on through the rain
Though your dreams be tossed and blown
[Repeat]
Walk on walk on with hope in your heart
And you'll never walk alone
You'll never walk alone
You'll never walk
You'll never walk alone
Hard to argue against this one. Instead of dreams being crushed, it's telling you to persevere and eventually you'll make it through the storm.  Which is perfect for Liverpool and its fans given the massive title drought storm they have been in for decades.  At least they aren't walking alone in the storm.
Winner: YNWA
2. Music/Melody
Bubbles:
Bubbles is at a bit of a disadvantage because the original song came out in 1919.  It was a hit when it first came out but by today's standards it's not terribly exciting.  But even for clearly sounding like it came out a century ago and not being terribly exciting, it's not as near of a downer as YNWA.
YNWA: There are two versions we could use for YNWA, neither of which helps them here.
Here is the original from the musical Carousel. The lyrics are hopeful, but the song is quite the downer when you realize it is sung right after someone dies.
Here is the version that the Liverpool fans adopted by Gerry and the Pacemakers.  It's not much better.  It doesn't come on the heels of someone dying but you practically need a pacemaker to keep yourself alive.  Don't get me wrong, it's a beautiful song, just easily puts you to sleep.
Winner: Bubbles
3. Song History
Bubbles:
From wikipedia: "I'm Forever Blowing Bubbles" was introduced to the club by former manager Charlie Paynter in the late twenties. A player, Billy J. "Bubbles" Murray who played for the local Park School had a resemblance to the boy in the "Bubbles" painting by Millais used in a Pears soap commercial of the time. Headmaster Cornelius Beal began singing the tune "I'm Forever Blowing Bubbles" with amended lyrics when Park players played well."
YNWA:
Also from wiki:  The song "You'll Never Walk Alone" is the club's anthem and has been sung by the Anfield crowd since the early 1960s. It has since gained popularity among fans of other clubs around the world. The song's title adorns the top of the Shankly Gates, which were unveiled on 2 August 1982 in memory of former manager Bill Shankly. The "You'll Never Walk Alone" portion of the Shankly Gates is also reproduced on the club's crest."
Hard to beat YNWA here.  West Ham was singing Bubbles for 40 years before Liverpool found YNWA.  But Liverpool really adopted YNWA even going so far as including the words in their stadium and incorporating it into their crest.  Shorter history, but bigger impact in that short history.
Winner: YNWA
4. Contribution to Stadium Image:
Bubbles:
YNWA: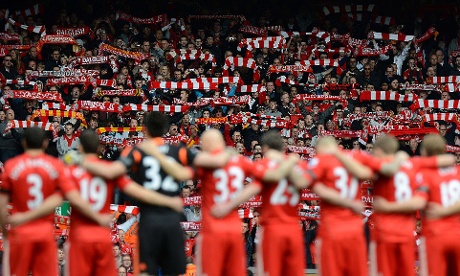 This one is really tough.  When Liverpool fans sing the song, they all hold up their scarves. It's a cool image, but every club has a scarf so it's nothing new or unique to have a scarf and hold it up.
Liverpool did though take the lyrics and incorporate it into the stadium structure.  Major points there. It's a great visual and image, but it's only contributing to one area of the stadium.  Doesn't do much to the overall image.
The bubbles on the other hand, while childish, are pretty awesome.  It's unique and actually does create a great image.  This one really is a toss up, but the child in me fancies the bubbles over the added architecture and I'm giving the slight nod to Bubbles.
Winner: Bubbles
5. Final Considerations/Overall Winner:
Bubbles really is a fantastic song.  It's also a great juxtaposition that is it sung by West Ham fans.  A song about bubbles being sung by notoriously rough fans.  It really adds to the experience when you think about the people that are singing this song: